This wonderful wee patio heater is 67cm tall and just fits under your Patio Tables (measure table height first please)
At IP44 it is splashproof, but we don't recommend leaving it out in the p******g rain!
A freestanding stylish patio heater or under table patio heater
IMUS provides eco-friendly outdoor heat at under 12p per hour.
As it fits under most tables, it delivers heat exactly where you want it.
IMUS is designed to fit under your existing garden table to make those long cosy evenings even longer.
This new Scandinavian designed Patio Heater is remarkable in it's effectiveness, portability and design characteristics.
Rated as waterproof IP44 the IMUS is equally at home outdoors, under a table keeping cold legs warm or indoors by your side in your conservatory and can be used in complete safety.
HUGE ENERGY SAVINGS
IMUS revolutionise outdoor heating with its low running costs, below 12p per hour!.
If comparing IMUS with a traditional gas heater the figures speak for themselves:
The total savings in running cost compared to a gas heater is 94%. In other words, this means that for the same running cost as 1 single gas heater, you can use 23 IMUS products.
SAFE TO TOUCH
With its unique patented structure and construction, the IMUS is safe to touch.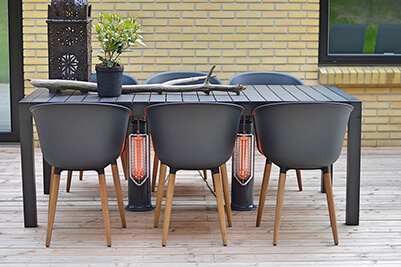 No reviews have been left for this product, be the first to
leave a review